Knights of Columbus Saint John XXIII Assembly # 730
St. Isaac Jogues, S.J. Province | First New York District | Serving Mid-Nassau County

Next Assembly Business Meeting August 21, St. Anne's Garden City, 7:30 PM. This will be the Assembly Officers Installation Ceremony
The Assembly Scholarship winners were Carlo Ammatuna ($500) and Zachary Tulloch ($250 / sponsored by Joe Zink)
Please send in your Assembly Dues, mail to:
Joesph Zink
390 Starke Avenue
East Meadow, NY 11554
If you need to contact Joe, click the title above
At the June Assembly meeting these awards were announced
Guardsman of the Year - Richard Seeger
Sir Knight of the Year - Joseph Lannon



Photos

The St. John XXIII and Cardinal Mercier Assemblies will have a dinner to honor our MILITARY CHAPLAINS. July 25th, 7 PM, $85 per Person. Music, Dancing and Food will be served. Leonard's Palazzo in Great Neck.

Dinner Information



Twelve Apostles Annual Family Picnic, July 13th, 10am - 6pm, Lido beach, Assembly Guardsman invited, 13 and older $20 per person, 4 - 12 years $10 per person, 3 and under Free, Food and Beverages

Picnic Information



August 17th the NY State Council will have a fundraiser for Catholic Education in the Brooklyn, New York and Rockville Centre Dioceses. NY Yankees vs. Cleveland Indians, 1:05 PM. Tickets are $50 per Person. Game will also be the celebration for Hall of Fame Inductee Mariano Rivera.

More Information



The Supreme Master has announced that as of July 1st, the Color Corps as you have know them, with their Regalia gear which includes Chapeaus and Capes, will no longer exist. If you read the letter from the Supreme Master it is very clear that any guardsman that wears the current Regalia gear after July 1st will be either suspended or expelled from the Knights of Columbus. Starting July 1st only the new uniform will be allowed to be worn by the Color Corps. This consists of a Gray beret, Jacket and Trousers that can only be purchased from the Knights of Columbus. A dark suit or tuxedo could be worn until the guardsman obtains the new uniform.

Supreme Master Memo




Final Regalia Photo
Mouse over News above to pause Scrolling
Assembly Information

Business Meetings
4th Wednesday of Month, 8 P.M.
Executive Meetings
3rd Wednesday of Month, 7:30 P.M.
Color Corps Drills
Sept. 25, Nov 13, Jan 8, March 12, May 14, 7:30 P.M., Notre Dame Church Rectory North entranceDirections
Scholarship Program
Open to any child or grand child of a current member of the Assembly and currently in the Senior Year of High School
Scholarship Entry Form
50/50 Drawing
Join the Assembly 50/50 Club
Assembly Apparel
Assembly Shirts and Jackets are for sale. Contact SK Joe Lannon for details
Contact Joe Lannon
Fourth Degree Knight
Do you wish to become a Sir Knight. Contact Joe Zink. Please fill out the prospect form and e-mail to Joe.
Prospect Form
Patriotic Support
The Assembly supports many Patriotic organizations. If you know of any organization that you would like the Assembly to support, please contact Faithful Navigator SK Joe Lannon.
Fly the Flag Program
History of the Flag Program
Assembly Programs honoring Patriotism
Assembly Officers and Councils
Assembly Board of Officers and the Assembly's Fifteen Councils
The Color Corps members exemplify all the
Principles of Our Order
Charity
By the gift of their time and energies necessary to practice, perfect and perform the ceremonials and sword drill
Unity
By the united efforts of Sir Knights to practice and perfect a coordinated drill for the good of the Church and the Order
Fraternity
By expressing an "Esprit de Corps," sharing a common desire for drill excellence and camaraderie
Patriotism
By performing precision drill as a salute to God and to country and visually exhibiting a love for both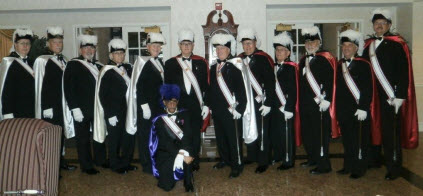 Worthy Commander SK Joseph Lannon
Worthy Executive Officer SK

Assembly Parishes for Turnouts
Assembly Funeral Homes for Turnouts
Color Corps Documents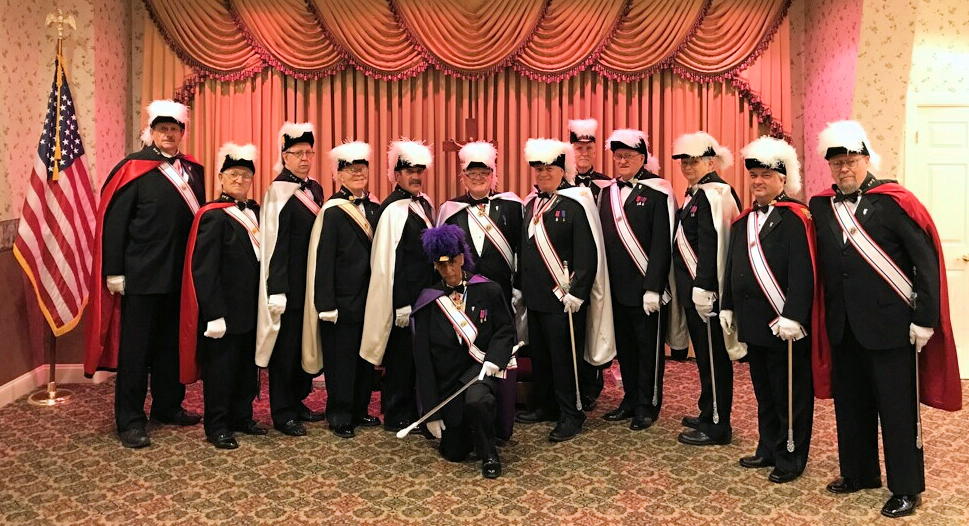 In case you need to be reminded of what will no longer exist
As of July 1st as per orders from the Supreme Master

To be replaced by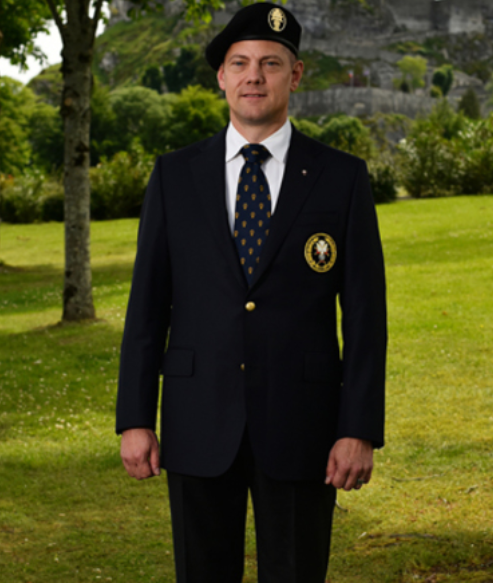 When knighthood was in flower, knights carried the sword to defend theirGod, their Church, their country and their fellow man according to thecode of chivalry. Today, Sir Knights wear regalia and carry the sword tohonor Christ and His apostles, especially on religious and civic occasionsspecified in this manual. Hence, the primary purpose of the FourthDegree is to encourage active Catholic citizenship and foster the spirit ofpatriotism in members and the community at large.

The public appearance of Fourth Degree Knights as a Color Corps atreligious and civic functions is an important activity of each assembly.Their colorful capes and chapeaux add dignity and the pride of Churchand country to any event. By these public demonstrations their loyaltiesbring credit to themselves and to the Knights of Columbus.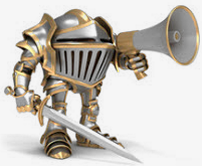 The Visible Arm of the Order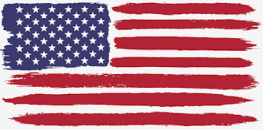 Knights of Columbus Information
Complete list of the Tech Specifications for your understanding